Everyone is saying it. Shelter staff, breeders, veterinarians and trainers are all throwing the word Socialization at you. But what does that mean beyond going down to the local Starbucks with your new puppy? Once you've had a chance for a bit of fun showing off with your friends, it's time to think a bit more about what your puppy needs.
What all dogs need is a robust socialization game plan.
There's nothing wrong with heading out the door and ad libbing. There are oodles of opportunities to socialize right outside. But what tends to happen is you leave the house forgetting a key piece of equipment that can undermine your success. Or worse, you keep repeating the same encounters. Constant repetition is only good if you plan to live in a bubble with your dog. That is unlikely. The whole point of a socialization plan is to experience a wide range of encounters. This will get your puppy ready for all the situations he may come across during his life. A dog who is comfortable with a variety of circumstances is likely to be happier. He will be less stressed by the unknown and easier to train. This dog will be a better companion. Its worth the effort, so let's add some sophistication to your game plan.
We've created a handy worksheet that will help you create a plan for each of your outings. Click this link field_trip_worksheet for the PDF.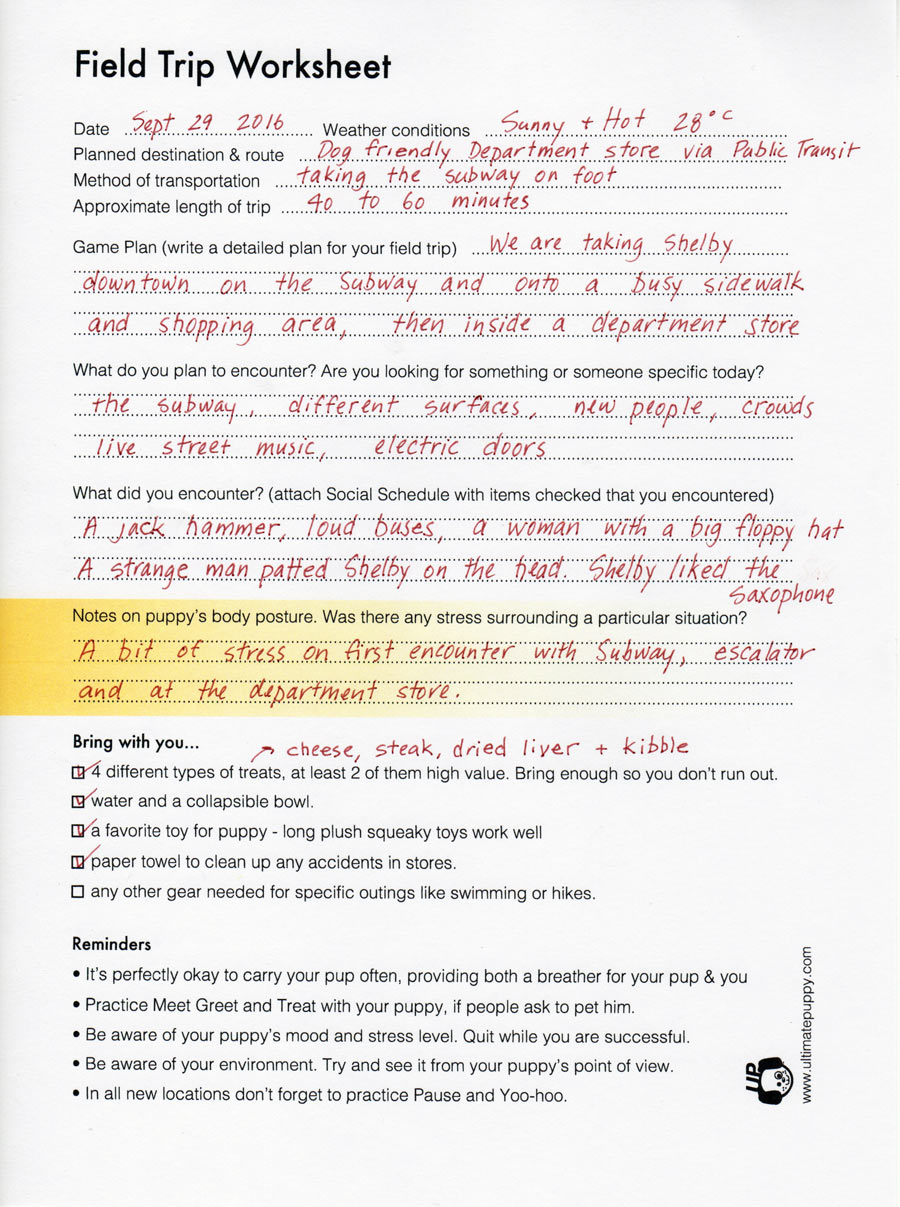 The Field Trip Worksheet is designed to work with the training pointers provided by ultimatepuppy.com. Be sure to print out the Social Schedule and use it as a guide. Your goal is to cover a wide variety of encounters. We would encourage you to focus on the highlighted section of the Worksheet where you should keep notes of your pup's reactions to new situations.
Reminder
What to do if your puppy is uncomfortable or frightened (trying to run away, tail tucked, or attempts to bite): Jolly him up with a silly voice, a treat, or a game. If a situation is overwhelming your puppy, back away until the puppy is relaxed again. Start from this new distance to build up your pup's confidence. Gradually get closer to the stimuli. Your ultimate goal is for your puppy to be comfortable and confident around stimuli that was previously scary to him.
This is when keeping notes is helpful, it allows you to focus on weak areas the next time you go out.
Good luck and have fun!