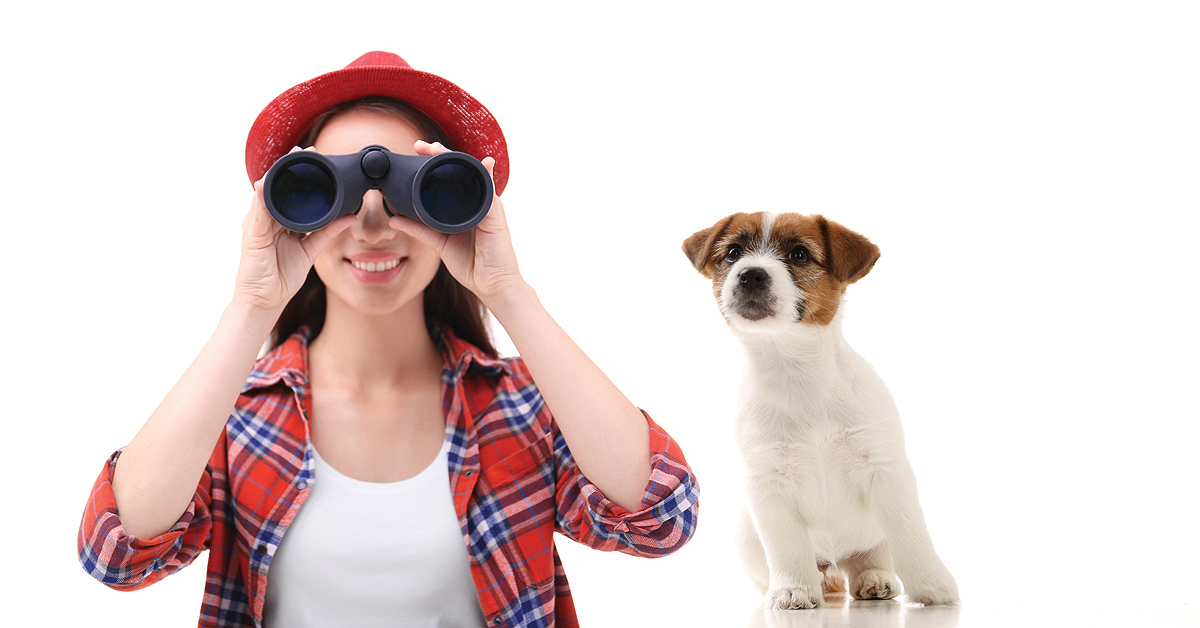 The Savvy Way to Search
You've finally taken the leap and decided to get a puppy. Knowing what kind of dog you want is the first step, but there are still many things to discover. All too often the important question of how to determine the best place to get your puppy is ignored.
Red flag: Anyone about to get a puppy is susceptible to a naturally occurring, common affliction. We call it "puppy-love-haze." Symptoms include a heightened emotional state; a tendency towards small, furry cuteness; and impulse buying.
Puppy-love-haze skews our better judgment; leaves us wide open for making poor decisions and could have serious side effects. There will be plenty of time for the puppy love-fest, but when making your decision about where to get a pup, a dispassionate approach is critical to the future success of your relationship with your dog.
Why is this important?
Birth to 16 weeks is considered the "golden learning window" during which you have an opportunity to positively affect the future behavior of your dog. Certain things must take place during this critical period in order for your puppy to grow into a well-adjusted dog. Socialization, preventative exercises and house-training are all important.
Most puppies go to their new homes at about eight weeks of age. So half of this "golden learning window" is spent in the care of a breeder or animal shelter. How do you know that the person raising your puppy has been committed to the puppy's healthy development from day one?
Asking some questions will help you determine the right source. By "right," we mean the place where those responsible for your pup's first couple of months are proactive and concerned about canine socialization and an enriched development program.
Interactive Interviewing
A reputable puppy seller or shelter is going to ask you questions. With approximately 40 percent of all dogs being surrendered during their first year in a new home, they want to be sure you are a suitable match. It is not uncommon to be asked about your lifestyle and about the time you are willing to devote to caring for the dog; you may even be asked to sign an agreement to enroll in classes…and show proof of completion! And the list goes on.
It is important that you have a list of your own questions. Regardless of where you get your pup, you are searching for the best-case scenario. Is the source making your job easier or more difficult? Taking the time to find out is well worth the effort.
The Savvy Search Checklist
Can you meet the parents and see the facilities where the pup is being raised? It is always nice to meet both parents of the pup if you can, though often, the mother is the only one available. It's also a good idea to meet these dogs before the puppies are born, so that your observations are not swayed by the cuteness factor. Take the time to observe what their personalities are like. Specifically are they well socialized and friendly around you. If the mom shows signs of being unfriendly towards strangers, there is a chance that her pups will too.
In a situation where you have decided to rescue a puppy from a shelter you may not have the opportunity to do this background check. You should still gather as much information on the puppy as you can. Some shelters make use of "foster homes" so the puppies won't have to be brought up in a shelter environment. Are you able to visit the foster home, see the facilities and meet the dogs?
Is the area where the pup stays clean? Can s/he leave the sleeping and play area to eliminate? Are the puppies being raised in an area where there is plenty of activity, as opposed to being shut away?
Has a range of stimuli been provided for the pups? How complex (while safe) has their environment been? Have they encountered a variety of surfaces and objects to explore and play with? Have they been exposed to sounds that are out of the ordinary for the area in which they live? Have the sounds been increased in volume to "proof" them against noise sensitivity?
What type of early socialization have the pups had? What numbers and variety of people have they met? Have they had early exposure to children (of all ages)? Have they been exposed to gentle handling and received treats from the different folks they encountered? Have they been for car rides? Have they visited a vet clinic? Was the car ride and visit pleasant?
What type of preventative exercises have been started? Have the puppies been fed individually to help avoid food guarding. Have "trade-you" games been played in order to reduce the likelihood of food and toy-guarding? Have they had a positive introduction to gentle handling exercises? Have they had a positive introduction to grooming tools? Does the puppy-raiser keep notes on the individual pup's development? If so, may you read the notes?
Have the puppies had a positive introduction to a crate? Have they been separated from their litter-mates for short periods of time? Or is the day you bring your puppy home going to be the first day s/he is separated from the litter and introduced to the crate?
A good tipoff that the breeder (or shelter) has been doing this early work is when they are using the Puppy Culture Program to raise their puppies. Note that we do not have any affiliation, or finacial gain from the Puppy Culture. We just believe their program is of the highest standard for puppy breeding.
A Happy Beginning
Once you're armed with answers and know-how, life with your dog-to-be should exceed your puppy-love-haze expectations. What a great way to start your time together.
Your're Lucky You're Cute – Puppy Webinar
If you have just brought a new puppy home or are about to, do not miss our On Demand webinar You're Lucky You're Cute. This webinar includes a eBook full of how to videos, a bathroom training plan, supply lists and more. Both are yours to keep and use as you raise your ultimate puppy!
To discover more about the importance of early education, socialization and preventative exercises please visit ultimatepuppy.com