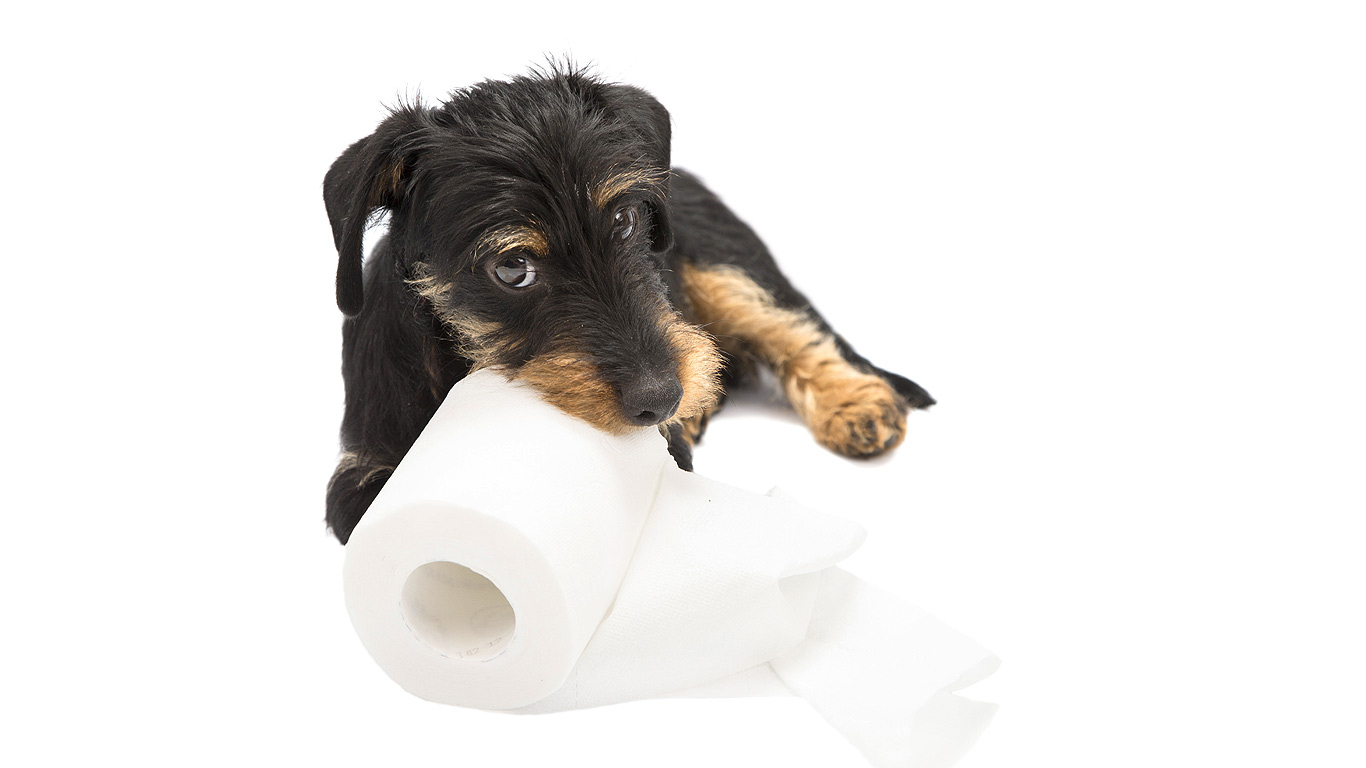 When you learn to toss a ball in the air you also learn to catch it. They go together the same way confinement training and bathroom training go hand in hand. You teach them simultaneously.
Hmmm, What came first, the chicken or the egg?
The first thing most new puppy parents face is teaching the pup where to go to pee and poo. Yes there is some sleep deprivation and countless trips outside, but teaching your puppy this habit should not be a complicated task. It does however require that you have a plan. You also must realize that it takes time and attention to detail.
To ensure success of your pup's pee and poo habits a method of confinement is needed.
Confinement is a crate, an exercise pen or a gate, something that prevents the puppy from having total freedom in your house. My preference for bathroom training purposes is a crate.
A loose puppy needs 100% supervision; this alone makes a crate an indispensable tool. In addition to bathroom training, confinement provides the important structure and boundaries a puppy needs. It prevents the puppy from developing inappropriate chewing preferences, it provides a quiet respite for a puppy resulting in a calmer more focused pup and it provides you with down time.
A loose pup with no supervision will wreak havoc on your life. They will chew, poo, bite, destroy and maybe make you cry. I get calls all the time from stressed out puppy parents. The household has been disrupted and a feeling of defeat is setting in. Please don't be discouraged. Success is around the corner.
The key to proper crate training is that you have to crate the pup while you are at home and awake, not just when you leave or go to sleep. The latter can lead to a pup hating the crate because it predicts you are going to disappear.
The Slippery Slope of Crate Guilt
If you are suffering from crate guilt please try to get over it. Spend that energy on teaching the pup that the crate is a great place to be. The half-hearted approach to using a crate may result in more resistance and unnecessary stress that can be avoided if you stick to a game plan. Early in the crate training you may experience crying and barking from your puppy, this is natural, the majority of puppies get over this quickly. If the first time the puppy is crated is when you bring him home, there is going to be some stress.
Play Games
Play games multiple times per day that help make the crate more attractive to the puppy.
Toss The Treat
Set a timer for 10 minutes.
Toss a treat in the crate and say 'go in'.
Ask the puppy to 'come out'.
Repeat.
Do this until your timer goes off.
Jackpot
Hide a jackpot such as a raw frozen bone or a delicious stuffed toy in the back of the crate.
Toss a treat in.
When the pup finds the jackpot let him gnaw at it for the count of 10.
Gently bring him out and close the door to the crate preventing him access to the jackpot..
Count to 10 again.
Open the door and allow access.
Repeat.
You Need A Strategy
Create a plan for bathroom training your puppy. Your success depends on you and your actions not the puppy.
The simple version goes like this; the puppy has every opportunity to 'go' outside and no opportunity to 'go' inside. You reinforce the behavior you want with a tiny tasty treat and a bit of free time. You stay the course. The pup's bathroom habit will start to become reliable after about 3 to 4 months of your continued good work. This is a ballpark figure based on how long it takes for the good habit to form.
People and puppies need not go through unnecessary turmoil and strife when it comes to confinement and bathroom training. With consistency and attention to the process you and your puppy will quickly fall into a rhythm. Soon you will be sleeping through the night again. You will have a calm, crate-trained dog with excellent bathroom habits.
Use This Tip List to Help You Devise and Stick To A Plan
Make a plan and stick to the plan.
Confinement of some sort is key.
Go outside or to the spot of choice, on leash.
Stand relatively still.
Use a 'key phrase, such as 'show me' or 'go pee'.
Stay outside for approximately 3 – 5 minutes.
Reward the puppy for 'going' with food and a bit of free time.
If he doesn't 'go', he should go back in the crate to avoid any accident.
Offer another opportunity a short time later
Remember it will take 3-4 months for a habit to form.
Sleep interruption is a real thing. Expect to get up in the middle of the night to take your puppy outside for the first few weeks.
Go outside with pup every time he comes out of the crate
Go outside with pup before he goes back inside the crate.
If it feels like you are going outside all the time, you are doing it right.
Use an enzymatic cleaner inside the house to clean up accidents.