Prevent – It's a thing
Brushing, flossing and visiting the dentist helps us maintain healthy teeth and prevent gum disease. If we don't brush our teeth one night we won't suffer the next day. However complications may come later on in our life if we miss years of proper oral hygiene.
This is the way it rolls. We make choices now to prevent problems later. The same goes for our dogs. By making certain choices early in their lives we will help prevent some behaviors from becoming problematic down the road.
Safe Spot Keeps Spot Safe
The safe spot (confinement with a crate or gate) and structure that you provide early on will go a long way to help prevent annoying habits from developing. For example, a puppy with structure will not have the opportunity to door dash, counter surf, jump on guests or chase the kids. Problems prevented! As the pup matures his propensity for many of these behaviors will mellow. You have raised a calm, well-mannered adult dog which is a result of your early efforts of training and management. Job well done!
Let's look at some other common problem patterns and how to prevent them.
Puppy Hoover
Outside on walks the puppy picks up trash, sticks, rocks and other random debris. We yell 'NO!' and grab for the thing in their mouth.
What can develop is intense guarding of objects, running away from you and sometimes growling and or biting you.
Work to prevent this behavior by first understanding that a puppy explores the world with his mouth. Therefore he is always going to be interested in snuffling around on the ground, grabbing things and sometimes eating them. Determine a 'what's safe' and 'what's dangerous' list. Monitor surrounding areas for the 'dangerous items'. Avoid them or pick them up before the puppy has the opportunity. Trade or ignore 'non- dangerous' items because grabbing for them may lead to resource guarding.
If the pup is doing this inside you need to examine the amount of free, unattended time he has. Be more organized about what is left out for the pup to grab. While it might be a natural reaction to yell and grab for a pup when he picks something up try not to do it since this type of reaction will always backfire on you. Be prepared for the behavior and manage it well.
Are You A Grabby McGrabby Pants?
You can create real problems for yourself as well as stress on the pup with thoughtless handling. A quick swoop to lift him can be starting. A reach for the little one to put on 'gear' like a harness or a leash may seem innocent to you but your pup might feel quite put out by the experience.
Slowly but surely you start to see a puppy that runs away from you when you reach for him.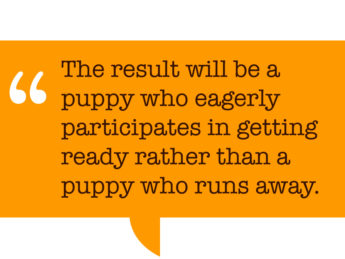 A more mindful approach to begin interactions with your pup may look like this. Let the pup come to you and always reward him. Do this with a body posture cue. With a treat in your right hand bend down and put your right hand low, close to or right against your right ankle. When the puppy comes over for the treat place your left arm over the pup and under his belly and feed him the treat as you lift.
The Information Cue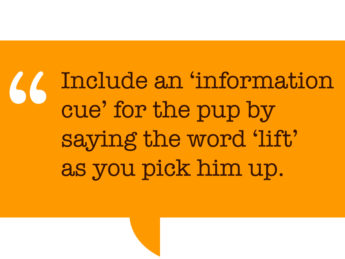 Include an 'information cue' for the pup by saying the word 'lift' as you pick him up. Your body posture becomes a cue for him to come over for the 'lift'. Always reinforcing this movement with a pup will go a long way to prevent keep away, deke away behavior. Do mini training sessions of multiple reps (3 to 5) of bending, lifting and treating because being picked up by their person shouldn't be a stressful experience for any pup.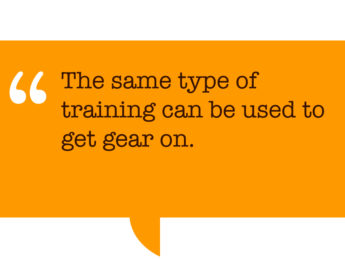 The same type of training can be used to get gear on. Kneel down or sit on the floor when you are putting on a harness, collar or leash and pair it with a treat. A fun game is to have the collar done up loose enough that the pup can poke his head through. You might lure it through to start. Reward every time, then give it a word like 'head in' or 'gear on'. The result will be a puppy who eagerly participates in getting ready rather than a puppy who runs away.
Social Butterfly
Lots of puppies are is very eager to meet dogs and people they pass on the street. They regularly pull towards new people or dogs and are permitted to meet them sometimes and not other times. However this pattern inadvertently makes the pulling stronger and the doggie emotions run higher.
This pattern of meeting and greeting starts to produce a pup that stops, pulls towards or barks at every person and dog they see on the sidewalk.
Think about alternatives to this style of meeting and greeting. I am not a fan of dog-to-dog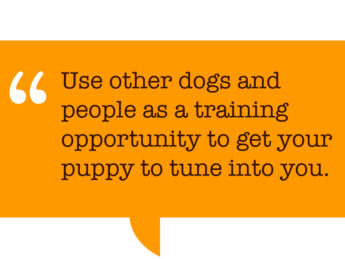 meetings on leash because it can often lead to problems. If it must happen keep it short. A sniff and move on. Three seconds should do it. Good puppy play can't happen on leash therefore why allow it? Leashes get tangled, this could make a puppy panicked and in general it is not best practice. Small puppy socialization classes with carefully monitored puppy playtime and curated play dates with selected pups or known friendly adult dogs are my picks for puppy play opportunities.
While on leash be selective about the people and other dogs your puppy is going to meet. Use other dogs and people as a training opportunity to get your puppy to tune into you. Meet select people for socialization purposes. Everyone does love a new puppy so you must use this to your benefit instead of the detriment of your pup's behavior?
Prevent Problem Patterns
A keen eye and attention to detail is a winning combination in the thick of puppy raising. Your prevention strategy makes a difference. Annoying or dangerous habits become much less of an option or a challenge. Be on the look out for problem patterns and "cut-em" off at the pass. Happy puppy raising.