Watch Me Move
Body language is the subtext for us humans but for our pups, it is their first language. They take their cues from other dog's body postures and subtle movements as well as being masters at watching people move.
We can inadvertently appear threatening to a dog by the way we move or approach them. Even our own dogs can get weirded out by our strange movement if for example we have a big coat, strange hat or move with a different gait then we usually do. Check out the scary monster game for more on this.
The flip side of being aware of how our posture is perceived by a dog is you understanding what your dog is communicating with his body posture.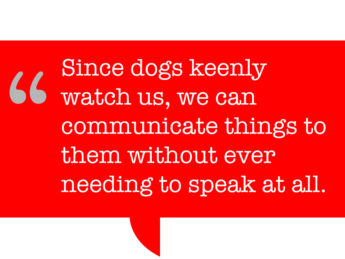 Check out this infographic by the wonderful Lili Chin. Take time to observe your pup as you go through the day and are in different situations. Can you tell what they are communicating or how they are feeling?
Body postures that let you know your dog is feeling happy and relaxed are a loose wiggly body or a play bow. Then there are the less apparent cues to watch for that might indicate stress such as head turns, lip licking, wide eyes or pinned ears.
Since dogs keenly watch us, we can communicate things to them without ever needing to speak at all.
Let's look at some fun ways to use your pup's natural inclination to watch you and learn how we can use our movement as cues to the dog to perform a behavior such as sit or lie down.
Marvelous Moves
Settle On The Go (or at home)
This is an excellent skill for any dog. When you sit, it's their cue to settle. More and more dogs are getting to head to the office with their people. How great is it to have a meeting savvy dog.
Prerequisite Moves
Your pup needs a solid down on a verbal cue or hand signal for this. Some duration on a 'settle' cue is a plus too. Of course, this is always something that can be a work-in-progress. More motivation for you to work at your foundation moves with this as a game plan for refining them as your puppy is able.
How do you teach it?
Do multiple repetitions of approaching a chair and as you are bending to sit cue your puppy to down. Reward the dog with three to five treats in rapid succession.
With a treat right against the pup's nose so they can smell it, stand up and lure the puppy out of the down position. Take a few steps away, do a U-turn and return to the same spot and repeat.
Do multiple repetitions for 1 to 3-minute training sessions.
Fade the verbal cue as your dog starts to get the idea.
Next, add some duration to the down. You are on your way to a pup who chills when you sit down for a bite, a meeting, or whatever brings you to your seat.
A Hand On The Door Knob Is Your Pup's Cue To Sit and Wait For What Happens Next.
Teaching your puppy to hold his sit as you open the door is helpful in preventing door crowding, jumping on people and of course door dashing. Front door etiquette is a favorite of mine to teach, this is one of the beautiful components of it.
Prerequisite Moves
A nice solid sit around moderate distractions is helpful. Impulse control exercises where the pup has learned to look away or wait calmly for a reward.
How do you teach it?
This is a two-parter – first, you train the auto sit, next you teach the pup to hold the sit as the door opens.
Part One
Begin by having your puppy on a leash and approaching a door.
As you put your hand on the doorknob ask your puppy to sit.
Reward the puppy for sitting.
Lure the puppy away by placing a treat right against his nose – it should be like a magnet in that the pup's nose does not leave your hand as he is sniffing the treat.
Do a U-turn and return to the spot and repeat.
Continue practicing in short sessions with multiple repetitions until the puppy is sitting on his own as your hand moves toward the doorknob.
Fade out the verbal cue so a hand on the doorknob is all that is needed for cueing the pup to sit.
Part Two
Next, you will teach the 'hold the sit' behavior.
This stage requires some good impulse control on your pup's part so be sure that you have practiced 'leave it' or some other good impulse control games beforehand with your puppy. This is helpful for keeping the pup out from underfoot in the kitchen. Out of the dishwasher. Safe from things that drop and helps prevent the dreaded counter surfing.
For this part of the lesson don't worry about the pup sitting when your hand goes to the doorknob. Focus on one piece at a time. Get both steps smooth. Then put them together.
With your puppy on a leash in the sit position slowly start to open the door.
If the puppy gets up, close the door. Reposition in the sit and try again. The signal to the puppy that we want him to hold the sit is the door closing. We stay quiet and merely control what the door does. Not what the puppy does. The pup figures this part out.
If your puppy holds the sit reward him with a delicious high-value treat and repeat. Sometimes you can also pay him with the opportunity to go through the door with a verbal release such as 'Okay.'
Lots of different things happen at the door. People come and go, and sometimes the pup stays or goes. Teach your puppy that an open door is not always a predictor of 'going through it.' But is a predictor of a big reward.
Refrigerator Door Opens – Pup Heads To A Mat To Settle or Just Outside of Kitchen.
This is helpful for keeping the pup out from underfoot in the kitchen. Out of the dishwasher. Safe from things that drop and helps prevent the dreaded counter surfing.
Prerequisite Moves
Settle on a mat with some duration in place.
How do you teach it?
Start with a mat just outside the kitchen.
Do several warm-ups of just asking the dog to go to his mat.
Reward!
Next, as you put your hand on the refrigerator door cue the pup to go to his mat.
Keep practicing until the dog heads to the mat as you are moving toward the refrigerator.
Fade the verbal cue.
Keep on paying large.
Next, you will add distractions such as washing a plate, opening a drawer or loading the dishwasher.
Keep rewarding the pup for holding his position on the mat as you move about the kitchen.
That Pup's Got Moves
The beauty of this type of training is that it takes a lot of pressure off of you and the dog. Do remember to continue to reward the dog for their excellent behavior. The sky is the limit in training. Anything you do on a regular basis can become a cue to your dog about what it is you want him to do at the same time. Get creative, have fun.
Happy Training.